---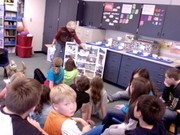 Heidi Vansteenburg
Mrs. Rothove's presentation
---
Former Teacher Pat Rothove Visits 4th Grade
By Vansteenburg, Heidi
May 07, 2012
Recently, Pat Rothove, volunteer and former N-K teacher visited the 4th grade classes to present information on animals that live around the ranch where she and her husband work. We appreciate the time that she took to bring the great displays and information to our students.
Thanks, Mrs. Rothove!

Please visit the gallery to see photos from Mrs. Rothove's visit.