---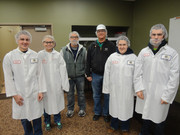 Lori Willert
Ready to tour the plant: left to right: Hayden Halbach, Shelby Low, Kevin Koster, Tony Mayer, Erin Riedinger, and Dawson VanRyswyk
---
2015 Algebra II Field Trip to Grain Millers
Grain Millers, Inc. located in St. Ansgar is a leading ingredient supplier to customers like Subway, General Mills, Post Cereal, Gerber, Trader Joe's. Grains include oats, wheat, barley, and rye which is milled into flours, flakes, brans, and fibers. They partner with farmers in the USA, Canada and around the world purchasing raw grains in sizes from a single truckload to multi-railcar.

Melissa Edgington, Human Resource Manager for Grain Millers greeted the Northwood-Kensett Algebra II students. Following a welcome and power point presentation about the plant's history and how current products are produced, groups rotated to various "mathematical stations" to give students a "taste" of the daily math that is required at Grain Millers such as dust emissions, gear and sprocket rotation speeds, bulk density, volume of bins, and recipe calculations for customers. One station included suiting up in proper gear for a guided plant tour.
Stations:
1.) Terry Hemann & Kendall Hansen showed some gears, sprockets and drive shafts, and then presented a "typical lifting problem in the maintenance department" dealing with speed and ratio calculations.
2.) Austin Rogers had students figure the volume of a hopper/silo, the capacity it would hold in bushels of oats, wheat, and barley, and how many tons of groats (the hulled oat) a full silo would produce.
3.) Laurie Lundmark showed how to calculate the bulk density of different grains. This is important to ensure the product will fit into packages.
4.) Connie Groth explained different "recipe requests" that customers of Grain Millers might have, and how to work with percent's and units in preparing that final mix.
5.) Kevin Koster, Tony Mayer, Kim Hofler and Lindsey Mullenbach led group tours of the packaging plant.

Students were given an 18 oz. container of organic quick oats. What an amazing and impressive place! We appreciated the Grain Millers employees making it a memorable educational experience for us!!