COVID Meal Program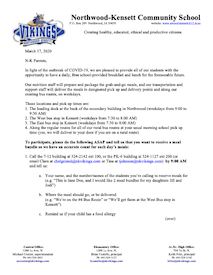 March 17, 2020
N-K Parents,
In light of the outbreak of COVID-19, we are pleased to provide all of our students with the opportunity to have a daily, free school-provided breakfast and lunch for the foreseeable future.
Our nutrition staff will prepare and package the grab-and-go meals, and our transportation and support staff will deliver the meals to designated pick up and delivery points and along our existing bus routes, on weekdays.
Those locations and pick up times are:
The loading dock at the back of the secondary building in Northwood (weekdays from 9:00 to 9:30 AM)

The West bus stop in Kensett (weekdays from 7:30 to 8:00 AM)

The East bus stop in Kensett (weekdays from 7:30 to 8:00 AM)

Along the regular routes for all of our rural bus routes at your usual morning school pick up time (yes, we will deliver to your door if you are on a rural route)
To participate, please do the following ASAP and tell us that you want to receive a meal bundle so we have an accurate count for each day's meals:
Call the 7-12 building at 324-2142 ext 100, or the PK-6 building at 324-1127 ext 200 (or email Clara at

chelgeland@nkvikings.com

or Tina at

tjohnson@nkvikings.com

) by 9:00 AM and tell us:


Your name, and the number/names of the students you're calling to reserve meals for (e.g. "This is Jane Doe, and I would like 2 meal bundles for my daughters Jill and Jodi")




Where the meal should go, or be delivered




(e.g. "We're on the #4 Bus Route" or "We'll get them at the West Bus stop in Kensett")




Remind us if your child has a food allergy



2. Then, daily, either go to your in-town pick up location at the designated time, or
wait for the morning delivery if you live on a rural bus route

3. Repeat the call-in process at least weekly, in order to ensure your child/ren have meals
We are starting meal pick up and delivery this Friday, March 20, so if you want to participate we need you to call or email by 9:00 AM this Thursday, March 19. If no one answers, please leave a message with the needed information and you will still be included in the next day's meal count.
We hope that many families will take advantage of this free daily meal bundle opportunity.
Northwood-Kensett Schools