This Web site was designed using Web standards.
Learn more about the benefits of standardized design.
Quick Links
SCHOOL WILL BE HELD ON MONDAY, FEBRUARY 16 AS A SNOW MAKE-UP DAY.
Main Navigation
Top Stories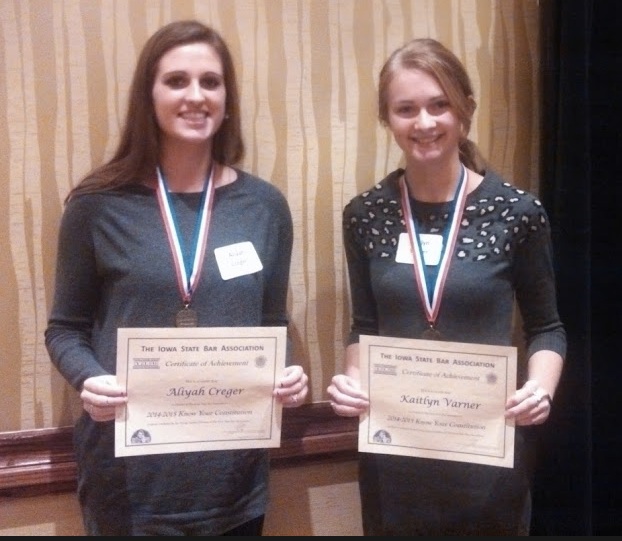 Kaitlyn Varner and Aliyah Creger of Northwood-Kensett were finalists in The Iowa State Bar Association's Young Lawyers Division "Know Your Constitution" Project. One hundred finalists were selected from the more than 1,000 students across the State of Iowa who participated in the "Know Your Constitution" Project. These finalists were honored at a luncheon held at the West Des Moines Marriott Hotel in West Des Moines on January 9, 2015. This year's Keynote Speaker was the Honorable Ross Walters, Magistrate Judge of the Federal District Court for the Southern District of Iowa.
The "Know Your Constitution" Project is designed to enrich students' understanding and appreciation of the Constitution. The students participating in the project were required to familiarize themselves with Constitution related issues. A quiz was completed by each participating student. An essay question accompanied the quiz in case of a tie. One hundred students and their teachers were selected to attend this luncheon.
This program is sponsored by The Iowa State Bar Association, with additional funding from the Iowa State Bar Foundation and many of the county Bar Associations across Iowa.
Preview the Front Page and view and download the full document (PDF) HERE read more
Catch Vikings Basketball against North Butler Tuesday Night on High School CUBE!
Current Highlights