---
David & Tina Long
David & Tina Long at the L.A. "Bully" premiere
---
Northwood-Kensett Sponsors North Iowa "Bully" Event
Northwood-Kensett Community Schools is pleased to announce a "Bully" movie event September 18, 2013.

The day will start at 1:30pm, when a small group of 5th-12th grade students will have the opportunity to learn from David & Tina Long, parents who are prominently featured in "Bully." The Longs will be teaching students about being positive leaders in the drive to eliminate bullying from schools.
At 2:45, all 7th-12th grade students will attend an all-school assembly to hear the Longs' message to students on bullying. They will be sharing their own experiences and what they've learned as anti-bullying activists. All students should benefit from their message.
At 7:00 pm, The Longs and a panel of experts will be present at the NIACC Auditorium in Mason City, where students and families from Northern Iowa are encouraged to come see a screening of the film "Bully." Following the film, the panelists will answer bullying questions in an effort to educate parents, students, and the community on what can be done to prevent and resolve bullying issues.

Last year, on Community Connection Day, all students grade 7-12 at Northwood-Kensett had the opportunity to see the film "Bully" at the Northwood Theatre, thanks in great part to the TUNE group and the Northwood Jaycees. Feedback was overwhelmingly positive for this event, which sparked the idea for a greater event where community and parents could be involved.

We hope you will come out and support our students at this event on Wednesday, September 18th. We look forward to the growth that a special event like this can encourage.
If you are interested in press materials, flyers, or other information, please contact Amy Renwick or Keith Fritz.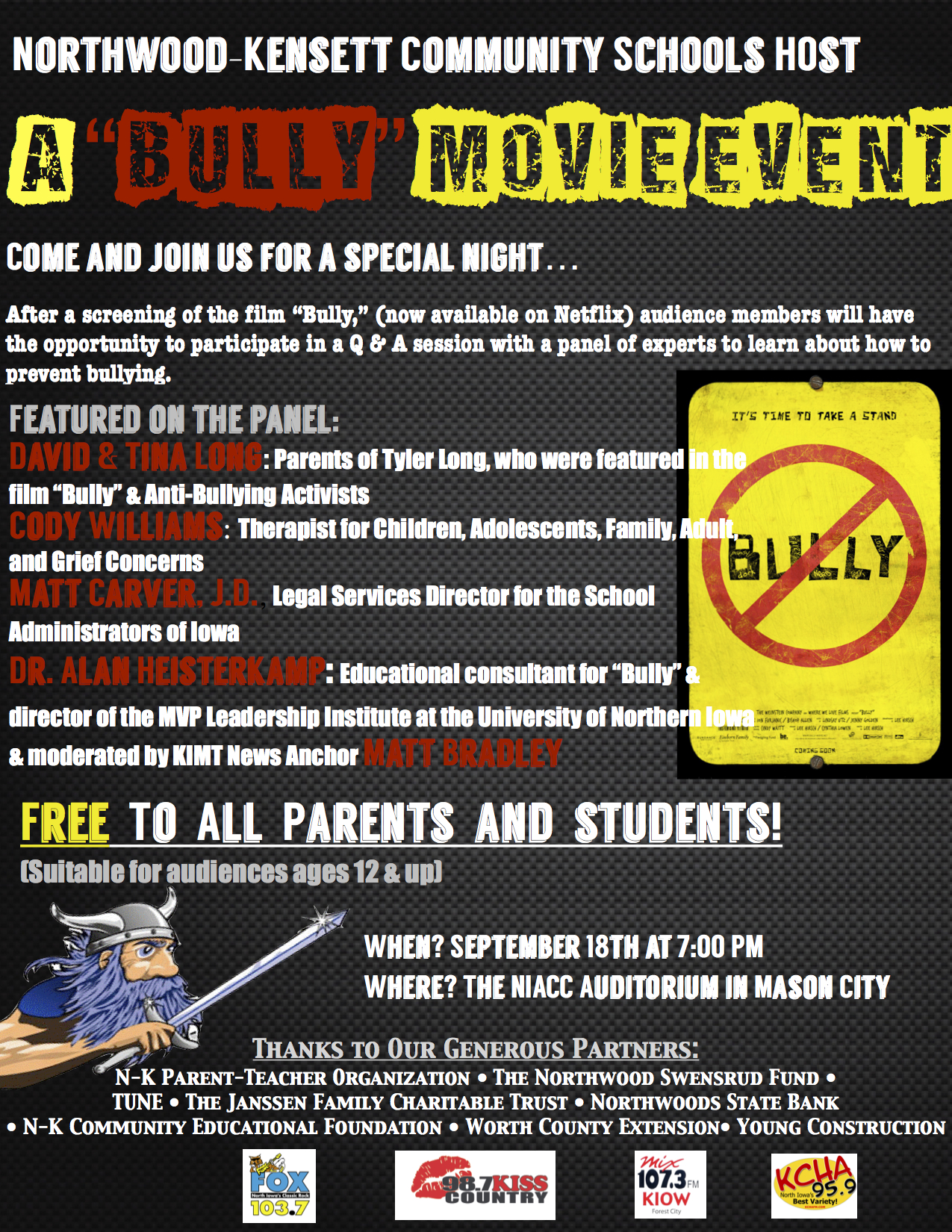 Coverage from September 18th, 2013's 6:30 AM Broadcast on KIMT News Channel 3
KIMT's coverage of our upcoming "Bully" Event from August 29th, 2013